All the hotels, inns, and places to stay in Zermatt are locally owned. Visitors will find a wide array of accommodations, from small cozy guest houses to large full service hotels with five star ratings. I suspect all have that special Swiss hospitality and excellent service known world wide. Almost everywhere we went or dined, even the tiny cafes, had perfect attention to service and detail.


The Five Seiler Hotels

The group of Seiler Hotels in Zermatt consist of the Mont Cervin, Monte Rosa, Hotel Schweizerhof, and Hotel Nicoletta (now Le Petit Cervin), each with a unique design and atmosphere, all with excellent locations near the village center and on or near the Bahnhofstrasse (main street). A fifth hotel, the Riffelalp, is located midway up the mountain and is linked by a very scenic, cog railway to Zermatt.

Visitors to Zermatt who are looking for deluxe and luxury hotels will be delighted with this fine group and will easily find one to fit their own particular needs and expectations. Another advantage is that guests of any of the five Seiler hotels have access to a "dine around plan" which gives them the option of having dinner at eleven restaurants in or affiliated with the hotels. This gives a huge array of culinary choices from burgers and pizzas at the Seilerhaus to haute cuisine at one of the hotels' main dining rooms. Be sure to take the link to our Restaurant Reviews to find out more abut the Seiler "dine around plan".


«¤»¥«¤»§«¤»¥«¤»§«¤»¥«¤»§«¤»¥«¤»§«¤»¥«¤»

Monte Rosa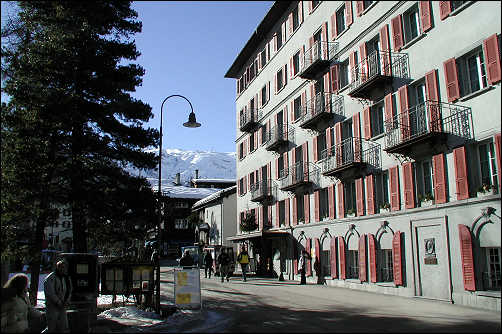 The "grande dame" is the Monte Rosa Hotel where Edward Whymper stayed when he became the first to climb the Matterhorn and one seems to step back to that time period when entering this hotel.



Turn of the century Victorian furnishings stay true to the "Old World" theme. A reception alcove awaits new arrivals - directly across the entry hall is a casual sitting room and stairs up to a second level lead to several medium sized rooms - a lounge, billiard room, cozy reading room, and elegant dining room. Bedroom and suites overlook surrounding mountain ranges and some have balconies facing the Matterhorn.


Guests of the Monte Rosa have access to the Mont Cervin "wellness center" with an indoor pool and full service spa. If you love to stay in fine historical hotels, then the Monte Rosa is a perfect choice.

«¤»¥«¤»§«¤»¥«¤»§«¤»¥«¤»§«¤»¥«¤»§«¤»¥«¤»
Mont Cervin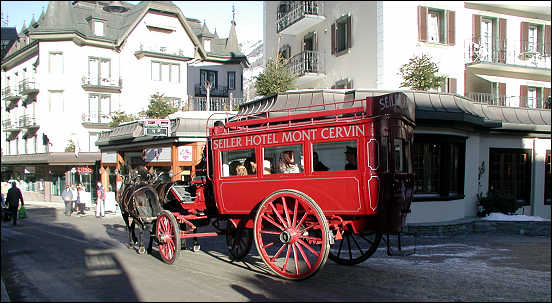 A member of the Leading Hotels of the World, Mont Cervin is the largest Seiler hotel and the most elegant of all. A grand entryway connects to two large sitting rooms on the left and to a spacious bar and lounge on the right with the fine dining room beyond. Thick persian carpets are underfoot, subdued lighting above.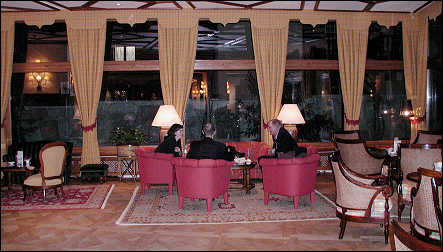 A wide array of rooms, suites, and apartments are in three buildings, all connected by underground walkways and enclosed street bridges. South facing rooms have balconies with a beautiful view of the Matterhorn. The two room suites with separate living room and bedroom on the top floor are quite elegant. Some are two levels with a loft bedroom above the living area.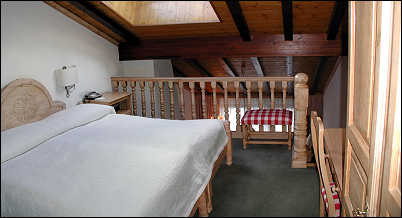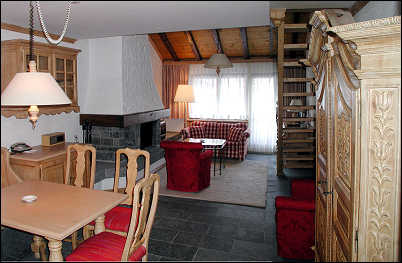 Families or couples traveling together might prefer staying in one of the residence suites or one, two, or three bedroom apartments. They have spacious living rooms, some with a fireplace, lovely bedrooms, and balconies or patios. The larger units also have a small kitchen.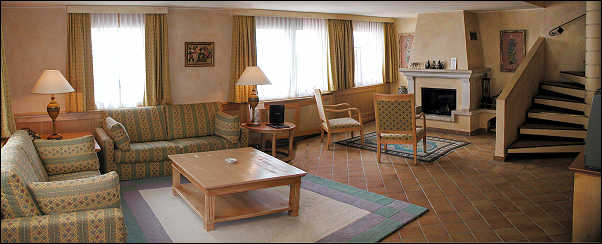 A full service spa with an 82 degree indoor pool can be reached by a stairway to a lower level. A second restaurant, Le Cervin offers excellent grilled seafood and U.S. beef.

Arriving guests to the Mont Cervin are greeted at the rail station with a bright red horse drawn carriage and majestically transferred to the hotel in grand style. We loved the little "luggage" wagon that was often hooked to the carriage. Everything about the Mont Cervin is done, served, or accomplished with perfect grace and style.

Those who prefer staying in luxury surroundings with impeccable service would be quite pleased with the Mont Cervin.


«¤»¥«¤»§«¤»¥«¤»§«¤»¥«¤»§«¤»¥«¤»§«¤»¥«¤»

Hotel Schweizerhof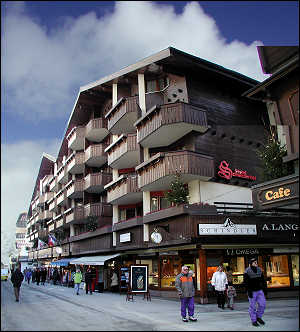 Hotel Schweizerhof is a four star hotel and a member of the Summit Hotels and Resorts. Located on main street, it is only two blocks from the train station and Gornergrat Railway that takes skiers and hikers up to the Riffelalp mountain area. Surrounded by shops, restaurants, and specialty stores, it is one of the most centrally situated hotels in Zermatt. Opened in 1982, it was built in a chalet style and stretches down main street for almost an entire city block, however, I soon discovered that it has a second building extending past a large garden area which makes the hotel an "L" shape.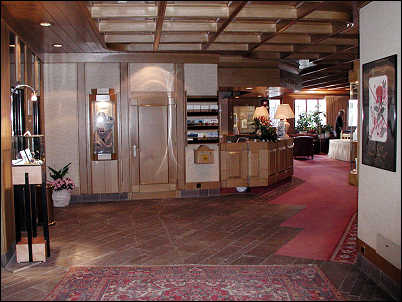 The entry and reception area is warm and inviting. Gorgeous parquet floors and beamed ceilings set the relaxed, comfortable atmosphere.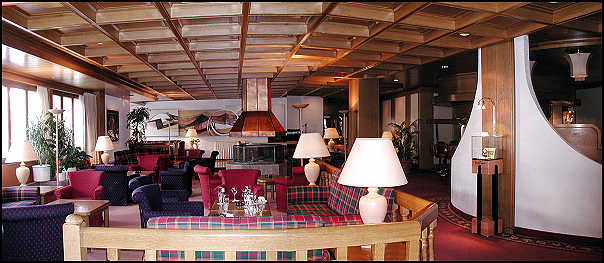 The reception area flows into a long lounge with circular bar tucked away on one side. Lots of sofas and chairs invite hotel guests to sit by the fireplace or relax after a day of skiing. The main dining room is through a hallway. The Schweizerhof also has three other restaurants in its "entry mall" - a delightful Swiss restaurant with an accordion band playing folk songs, an excellent Italian restaurant, and a Fondue restaurant (the only one in town still offering chocolate fondues). Guests staying at this hotel are only a few steps from gastronomic delights! Be sure to see more about these dining spots in our restaurant review section of this website.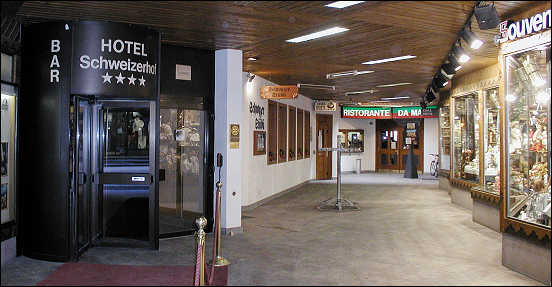 Every room has a view and most have a patio or balcony. Those in the main building have wooden balconies overlooking the street or facing the garden and sports arena toward the east; those in the "L" building face the garden and the Matterhorn. Guests have a large array of accommodations from cozy single rooms with one twin bed and bath/shower (no balcony), to a roof top suite with a bedroom, living room with fireplace, and large balcony overlooking the street with a lovely view to the Matterhorn. Standard rooms are spacious with either side by side twin beds or one queen bed. Several kinds of suites have large sitting areas. Interiors are a combination of Swiss chalet decor with warm woods and soothing colors.



The Schweizerhof also has an indoor pool with sauna, steam bath, solarium, and massage therapy.

I found the atmosphere and surroundings very warm and inviting. If you love chalet style surroundings with a gracious atmosphere, you'd be delighted with the Hotel Schweizerhof.


«¤»¥«¤»§«¤»¥«¤»§«¤»¥«¤»§«¤»¥«¤»§«¤»¥«¤»

Hotel Nicoletta

Now Le Petit Cervin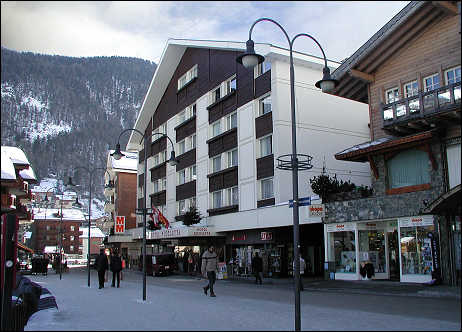 The Nicoletta is one block off main street next to the Alpine sports center and is a family favorite. Decorated with contemporary European furnishings, it is bright and airy.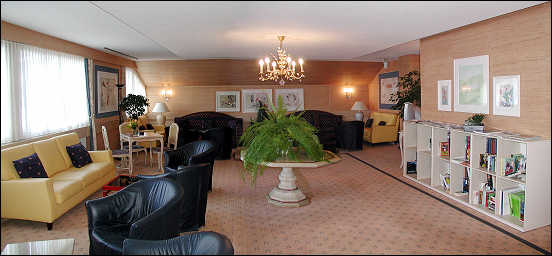 It made good use of a location with fabulous views south to the Matterhorn and north to the Mischabel mountain range by having the entire forth floor devoted to the restaurant, bar, billiard room, and reading room. All north facing rooms have balconies and a view of the famous mountain. This hotel also has a kindergarten and is connected to the Mont Cervin spa and indoor pool by an underground walkway.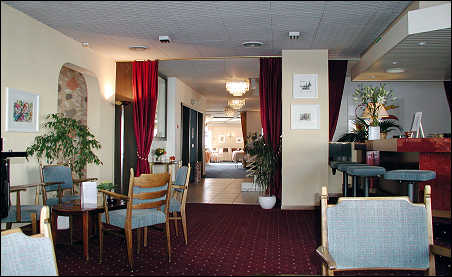 Those who like relaxed, contemporary surroundings with fabulous views would be quite happy staying at the Nicoletta. For more information, take the link to my full review of Hotel Nicoletta (Le Petit Cervin) at the bottom of this page.


«¤»¥«¤»§«¤»¥«¤»§«¤»¥«¤»§«¤»¥«¤»§«¤»¥«¤»

Riffelalp Resort - a mountain lodge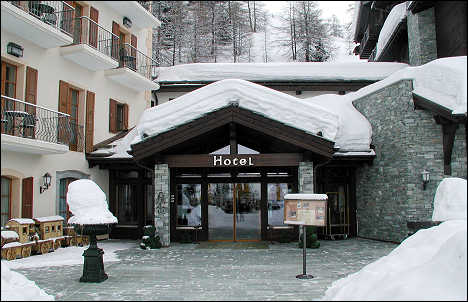 High in a mountain range above Zermatt is the Riffelalp Resort, one of the Leading Hotels of the World. It is located at the edge of a plateau 6666 feet above sea level in the middle of the Gornergrat skiing and hiking area and has a panoramic vista of the surrounding mountains including a perfect view of the Matterhorn. It is connected to Zermatt by a scenic cog railway with continuous daily service and several evening trains.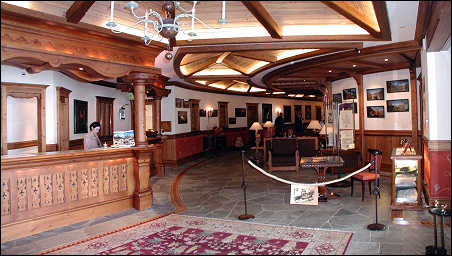 The first Riffelalp hotel was established in 1878 and became a favorite playground of European aristocrats until 1961 when the main building was destroyed by fire. As if rising from the ashes of the original, this 5 star resort was completed in 2000 and once again became an elite destination for those wanting a luxury hideaway high in the mountains. A comparable resort in America would be Stein Eriksen's Deer Valley Lodge which has much of the same atmosphere and ambiance.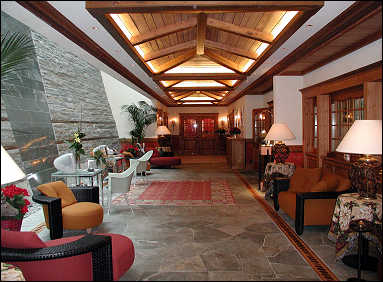 We entered a lovely reception area and walked down a long hall that connected to a large sitting area with a circular bar, the restaurant, and conference room. The interiors are richly furnished with lots of gorgeous woods and warm colors.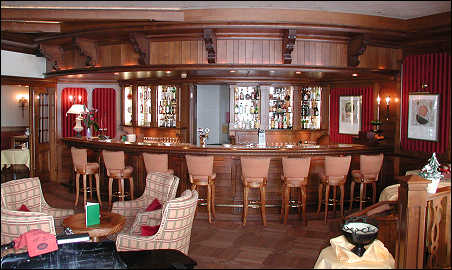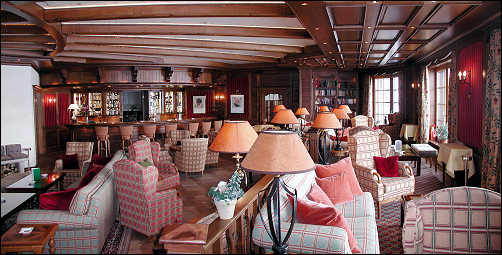 Riffelalp has two restaurants - Alexandre is the main dining room; the other restaurant, Walliserkeller features regional specialties - fondue, reclette prepared over an open fire, and grilled meats.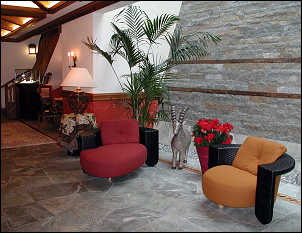 The grand hall, interestingly, has a contemporary wall on one side - slanted upward toward sky lights and accented with tropical palms. Modern, whimsical chairs and lounges surround the "internet information center".
The resort has a pool and spa with saunas, Turkish baths, whirlpool, massage, and gym. It also has child care, a kindergarten, bowling alley, billiard room, and cinema room for guests entertainment if they aren't out on the slopes or hiking the mountain trails. During the high season starting in December, musical concerts are held each Friday evening.
Two types of luxurious accommodations are available - chalet style singles, doubles, and Junior Suites and "old world" style singles, doubles, and superiors. Most all have balconies or patios with gorgeous mountain views.
Those who enjoy quiet, luxurious mountain getaway destinations would love staying at the Riffelalp.

Hotel Locations:
The Riffelalp is reached by taking the Gornergrat Railway up to 6666' above sea level - about a 20 minute ride. Zermatt is at 5000', about the same as Denver.
In Zermatt, as one leaves the train station and walks down main street south toward the Matterhorn, the Schweizerhof is on the left, about a 3 minute walk... two more blocks down is the street leading to the Nicoletta (about a 5 minute walk from the train station). If you continue on main street , the Mont Cervin hotel complex is two more blocks on the left, followed by another 3 minute walk to the Monte Rosa on your right. A walk from the train station to the church takes about 10 minutes (or longer if you like to stop and window shop!)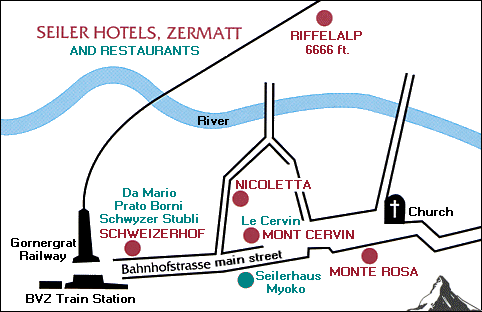 You will pass a smorgasbord of shops along the way - fun souvenir stores, sports shops, clothing boutiques, and those specializing in watches of all types and price ranges. Lots of restaurants are along the way too - every cuisine imaginable. It reminds me of the way Aspen used to be 30 years ago (before all the ritzy name brands took over the shopping district).

The entire village of Zermatt is very "alpine" and follows the swiss chalet style in most cases. Most of the town is flat with some homes and inns nestled into the almost vertical mountain sides.