Hotel Nicoletta is a 4 star hotel with a central location and some of the best panoramic mountain views in Zermatt. Only one block from main street, this six story hotel towers above and is uniquely located between a north side low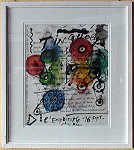 standing sports complex with ice rinks (tennis in summer) and a south side one story wellness center containing a spa and indoor pool.

Built in a modern chalet style, the decor is contemporary European with bright, airy rooms embellished with whimsical art, prints and paintings. The compact lobby gives little indication of what awaits guests above - south facing rooms with balconies and views of the Matterhorn; north facing rooms with wide open views of the Mischabel mountain range.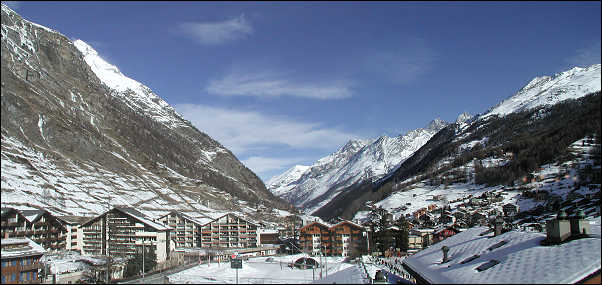 View from Panoramic Piano-Bar on 4th Floor


The entire 4th floor is devoted to panoramic vistas too - the restaurant fills the south side of the floor with glass windows and a wide balcony overlooking the Matterhorn. The north side holds a bar, spacious reading room and lounge, plus a cozy billiard room all with wide plate glass windows and mountains beyond.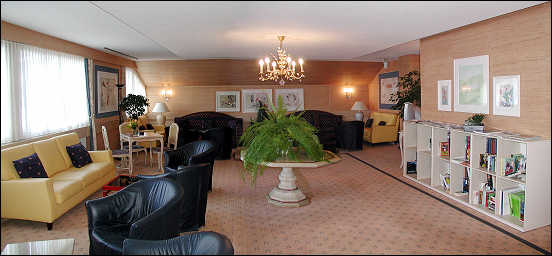 As if the views were not enough, the friendly staff immediately made us feel quite welcome to their gorgeous part of the world. Co-manager Beat (be-at) Peter, greeted us on arrival; Merv, the concierge was a delight and took care of all our special requests and dinner reservations.
We loved the two bartenders - Bruno and Pasquale, Nuno the Portuguese head waiter, the evening piano player Willy from Budapest (who had spent several years in Atlanta), and all the others too. The Nicoletta quickly turned into our new "home away from home" in the Alps!
We soon discovered even more pluses to this hotel - it shared the Mont Cervin indoor pool and full service spa, easily reached by an underground walkway. Our two grandchildren did not accompany us on this trip, but if they had, a bright and colorful nursery full of toys was also in the hotel on the lower floor. This level also had a cozy alpine "cellar" room where afternoon tea and cakes could be enjoyed, or special Fondue dinners were served. We were completely enchanted with our choice of staying at Hotel Nicoletta.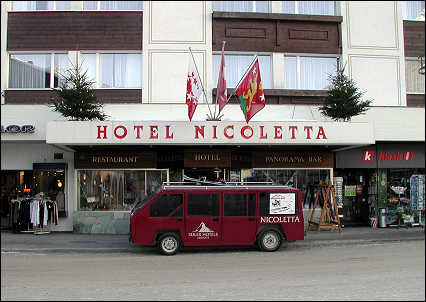 But let's start at the beginning. Kenny and I were the first of our family of 8 to arrive in Zermatt. A large wall board at the train station had a list of all hotels, each with a number. We simply picked up the telephone and called the hotel to announce our arrival. An electric car came within minutes to collect us and our carry-on luggage and whisk us off to the Nicoletta.



Checking in amounted to filling out a guest card and we were showed to our one bedroom suite on the top floor.

An entryway lead to a generously sized living room and wide balcony with perfect view of the matterhorn. The separate bedroom held two beds pushed together topped with big fluffy duvets (down comforters) and a doorway to the balcony.

One Bedroom Suite

504

Nicoletta top floor

Living Room

Bedroom

Balcony

2 bathrooms

The suite also had his and her bathrooms - his had a full bathroom with shower, hers was a larger bathroom with jacuzzi tub, long countertop and lav, plus commode and bidet. The living room had a desk and armoire with TV and mini-fridge below. We were delighted and had enough space when our family of eight wanted to gather in the living room.

The next morning we went to the dining room for breakfast and as I sat down at a windowside table and looked up, I was astounded with the view. The early morning sun was just touching the tip of the Matterhorn and slowly moved downward to reveal this famous mountain in all its glory. What a way to start the day in Zermatt!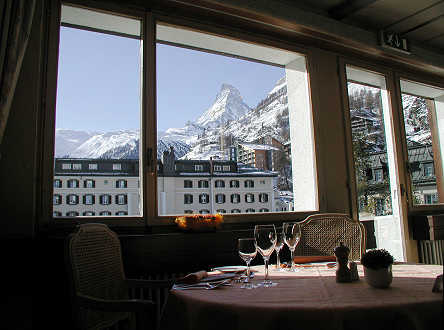 Our three kids and their spouses began arriving that afternoon. They had rooms on the second floor (actually the 3rd) all with balconies and views of the Matterhorn. Side by side twin beds faced a built-in desk concealing a mini-fridge. Lots of storage and closet space was in the hallway. A fresh fruit plate and bottle of wine was a thoughtful welcome gift by the hotel.


South facing Double Rooms


Each room has fluffy bathrobes and cotton slippers. These were worn in the room as well as to the pool and spa. Everyone's favorite routine was to come in after a day of skiing or shopping, take a shower, put on their swimsuit, robe, and slippers and go down to the "wellness center" for a massage, a session in the whirlpool, sauna, or dip in the pool - a great place to meet apres ski before dressing for dinner and meeting in the bar. I didn't take my swimsuit but wished that I had packed my Caribbean shorts and tops to lounge around the 82 degree spa - my turtleneck knit shirt and sweat pants were a little too warm!

Three of us brought laptops and found that our room telephones had U.S. phone jacks built in. The hotel provided local dial up information so that we could connect to the internet for a small fee. The hotel also had a small "computer booth" in the lobby across from the reception desk for guests to check their email or log onto the internet for free.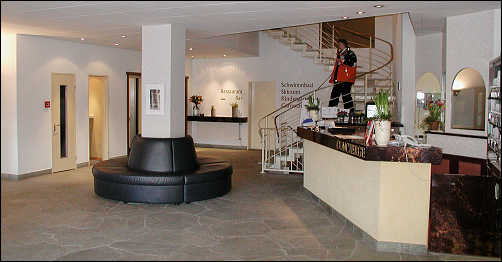 All of us had checked our luggage from our home airports to Zermatt with Air-Rail Swiss tags and these arrived about 2 to 3 hours after we checked into the hotel. We gave our tag receipts to the desk and they arranged pick up and brought the luggage to our rooms - a wonderful service. The hotel also arranged for our luggage to ship back to the Zurich airport when we departed.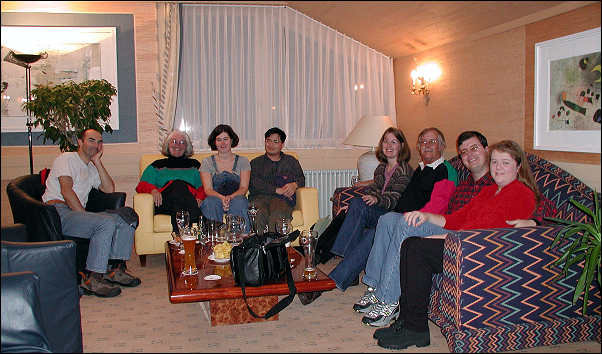 Nick, Lynn, Kara, Max, Corinne, Kenny, Jeff, and Katherine


Once all our family had arrived in Zermatt our routine became to meet at breakfast between 7 and 8:30, leave for the slopes (or shops) between 9 to 10, ski, return mid-afternoon and go to the indoor pool for relaxation. We'd then dress for dinner and meet in the Panoramic Piano-Bar on the 4th Floor. Sunday evening was highlighted by a managers' cocktail party during which Beat Peter and Claudia Pinkwart greeted and visited with guests.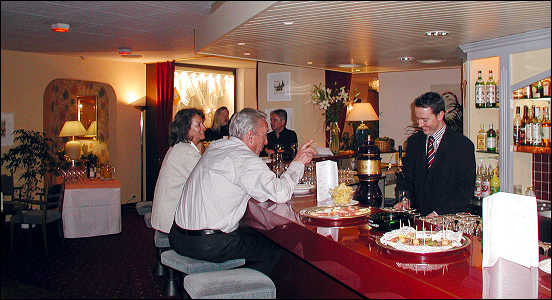 Rooms with a view:
Note: The ground level floor is called "zero", the 2nd level floor is "one"; 3rd level floor is "two", etc. In other words, our suite 504 was actually on the 6th floor; the restaurant on their "forth floor" is actually what an American would call the 5th floor. The lowest level was called "minus 1" (-1 on the elevator button!)

Hotel Nicoletta has several types of accommodations from which to choose. North facing rooms have large windows with a view to the mountain range; south facing rooms have a long shared patio (1st floor) or private balcony (2nd, 3rd, and 5th) facing the Matterhorn. Two elevators and a stairwell are in the center of the hotel. The south side with balconies is shown below - our suite had the uppermost balcony.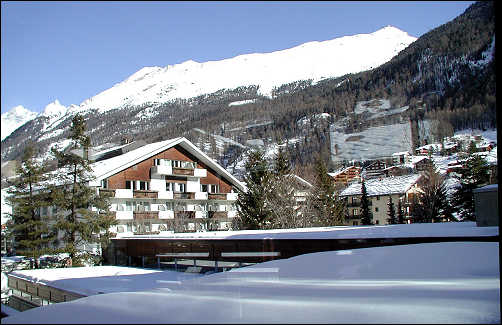 Most of the north and south facing rooms are about 260 square feet (28 square meters) and have a full bathroom with bathtub, lav, toilet, and bidet. Twin beds are side by side with a table and two chairs in a small sitting area plus a built in desk and countertop with a mini-fridge below. Each room has plenty of storage and closet space. The south facing rooms have a glass door that opens onto a patio or balcony. The north facing rooms have large windows. Some rooms can be connected.

Two rooms on each floor face west and open to a shared balcony with a village view; they can be turned into connecting rooms if booked together. Each one is about 400 square feet and have two side by side beds, two bathrooms (his and hers) plus a large sitting area with a sofa.


Suites with a view:
The top floor has three suites and two small bedrooms. The arrangement is as follows:

<>The south side has Suite 503, Suite 504, and room 505 in an alcove with a door that could be used as a "front door" to all three. Suites 503 and 504 each have a living room, bedroom, large private balcony with views of the Matterhorn, a "his" bathroom with shower, and "her" bathroom with jacuzzi tub. A large family needing another room could reserve room 505 which has a double bed and bath with shower plus a door to a large balcony facing west.