Zermatt, Switzerland
Ski Mountains Map
by ScubaMom & Family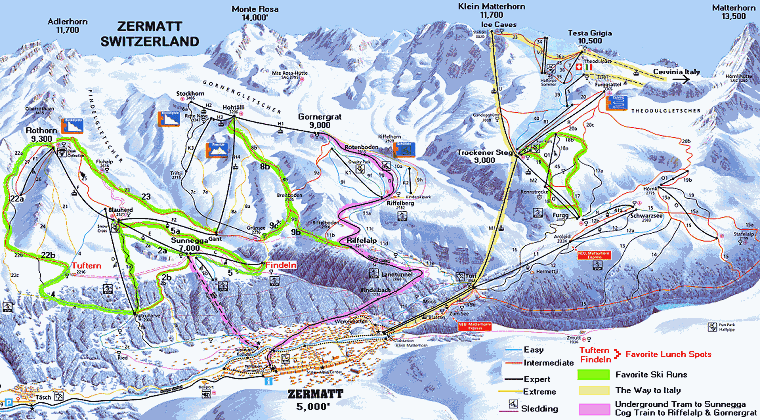 Click on the map for a larger, more detailed version.
This map is marked with some of the McKamey family's favorite ski runs.
They are mostly intermediate level and a few high intermediate.
We also show the ways up the mountain and to Italy.
Don't miss going to Italy on a nice day!
Go to ScubaMom's Zermatt Review page
Seiler Hotels of Zermatt
Hotel Nicoletta Review
Restaurant Reviews
Skiing Zermatt by Corinne & Max Chang
Zermatt-Cervina Skiing by Nick Murray
Ski Zermatt by Kenneth McKamey
Go to the Travel Planning Page
Go to the Zermatt Links page
Go to the Main Page
Olson Travel
Complete vacation planning & reservations

Go to ScubaMom's other Ski Trip reviews
Aspen ~ Jackson ~ Whistler ~ Banff
email ScubaMom Lynn McKamey
All photos copyright Lynn McKamey, Kenneth McKamey, Max Chang
All rights reserved.