Skiing in Zermatt is a very different experience from that of skiing in the USA, particularly if you ski in the north-east. The wide open spaces can appear somewhat intimidating at first, as most of the skiing is above tree-line, until one realises that almost nobody seems to ski off-piste (off trail). Many skiers do not even ski off the edges of the groomed trails when there has been fresh snow. Indeed, after a snowfall we were able to find fresh untracked powder for a couple of days. Furthermore, the only people on the slopes whilst heavy snow was falling all seemed to be visitors, which could be explained by the fact that some locals informed us the skiing would be bad because visibility would be poor.

Zermatt is effectively split into two different areas, both physically and because of the lift system. Rothorn and Gornergrat forming one and the slopes off the Klein Matterhorn the other. However, it is possible to ski between the two, though this is by no means made easy. This review will concentrate on the Rothorn and Gornergrat areas as this is where we spent most of our time skiing so far.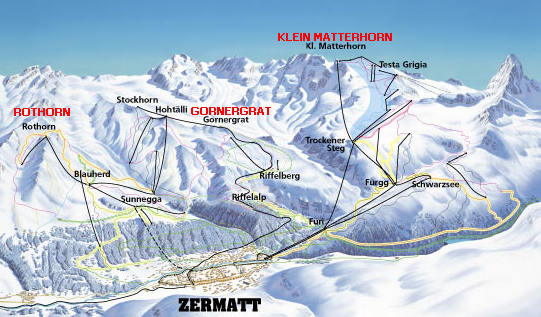 More ski maps are available - take the link at the bottom of the page.
On the Rothorn and Gornergrat side there are two main methods of getting up to the skiing. The quickest (though usually crowded) is by the Alpen-Metro (funicular) to Sunnegga station which connects nicely into the lift network. Secondly, one can take the cog-train which is rather slow, though it is a must on a clear day for its beautiful views. Alternatively, go up by the Alpen-Metro and take a leisurely trip down on the train at the end of a long day.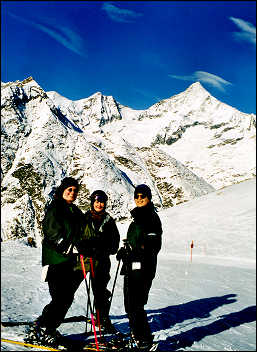 When we skied, we usually went up by the Alpen-Metro before taking the gondola to Blauherd and the tram on to Rothorn. We have a group of mixed abilities, from beginner-intermediate to expert. Going up to Rothorn gave us the option of taking an intermediate trail with more advanced runs off it. This meant we could ski as a group, socialise, and keep everyone happy. We found ourselves skiing trails 22a, 22b and 4 (Trail 4 is fairly narrow and gets icy) down to Patrullarve, almost every day even if it was only once, as we felt this provided a good warm up run for all of us. An alternative to the above is trail 23 down to Gant, though this has a couple of narrow sections and does seem to get icy fairly quickly, there are some nice areas just off-piste that collect snow.
From Gornergrat, where the cog-train terminates, one can head up the mountain to Hohthalli and Stockhorn for some more advanced skiing. We liked 8b down from Hohtalli as this allowed us to link with Gant (9c) or to ski over to Riffelalp (9b) and the train up or down. Trail 8b also had some good terrain off-piste which had good snow almost all the time we were in Zermatt, partly due to the fact mentioned above, that so few people seem to ski off the groomed runs. For those in search of powder but not yet ready for the steep and deep, the beginner terrain from Rotenboden down to Riffelberg (especially near K2 T-bar) provided some really nice powder that was hardly skied. Yet it was not too deep or steep for those in the party who were new to powder.

Finally I shall just mention our two favourite eating places on the mountain: one is just above Findeln and had big lounge chairs on its deck as well as terrific 'brownies and ice cream'; the other one is the small and simple place at Tuftern (Trail 4), plain food with a good atmosphere and great views of the Matterhorn when the weather was clear as you an see below.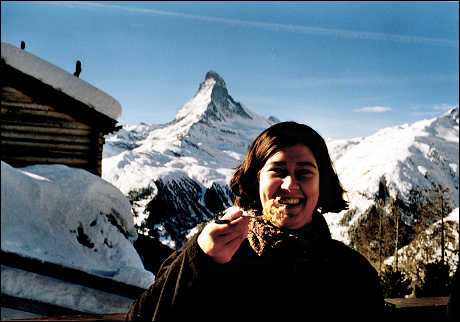 Zermatt-Cervina


Whilst staying in Zermatt and hearing that Italy was but a short trek (we were told that Cervina was a thirteen kilometer ski), Kenny and I decided to ski across our first international border. We picked a beautiful sunny Saturday morning for our adventure, heading out of the door of the hotel at the European early morning time of 10:30am. We walked the short distance to the bus stop and waited for a bus to take us to the lifts serving the Klein Matterhorn. The buses are regular, with one coming along every ten minutes or so. As this is the alpine equivalent of rush hour, the bus was fairly full though we had no problem getting on board. This last point was brought home to us when we lined up for a good twenty minutes for tickets (tickets for the Italian side can be included in the Zermatt pass).

The ride to the Klein Matterhorn takes about forty-five minutes and involves at least one change (depending on which lifts are running). The tram, up the final leg to the Klein Matterhorn, actually enters the face of the mountain near the top, and the exit is via a tunnel cut through the mountain itself. From here it is a short ski down (intermediate trail) to the border which we arrived at around noon.

Once into Italy there are several routes down to Cervina. The upper slopes were fairly busy and we felt a little intimidated by the number of skiers and riders. However, most people did not seem interested in skiing all the way down to Cervina and the slopes got less crowded the further down we went. Skiing down took us about thirty minutes almost all intermediate or beginner trails). After a couple of runs from the village of Cervina we decided to stop for pizza and a drink, we were in Italy after all. We sat in the sun for an hour and then decided to head back over to Switzerland.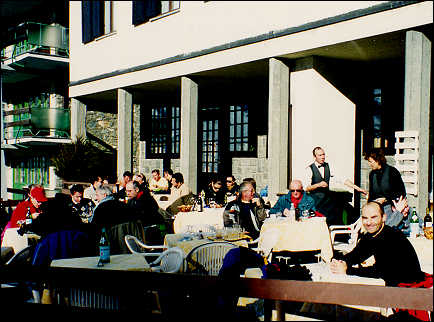 The ride up from Cervina took about thirty minutes as it is a much shorter journey than that on the Swiss side. Upon arriving back in Switzerland, we chose to ski down to Trockener Steg and take the tram down. The lower slopes can get crowded and a little icy.

The whole trip, including lunch lasted around five and a half hours. I would not advise beginner skiers to try this trip as it is largely over intermediate terrain and the round trip is close to twenty-six kilometers (16 miles). Intermediate skiers should have few problems, though I do recommend bringing something to drink, sunscreen and an extra layer as it could easily be a long day. Furthermore, please check conditions before leaving as it can get very windy on the Klein Matterhorn and if the weather changes, it could well be a tricky ski back.

Overall, I thoroughly recommend skiing over to Italy, it is a different type of ski resort with a nice mix of terrain and makes a pleasant contrast to Zermatt.

Ski Rental Zermatt
There are a number of places in town that rent boots and skis, and prices were pretty uniform with a good variety of differing brands to try. A damage waiver seemed to be included at all places (10% extra), though please check this. We had only one German and French speaker in our group, but this was not a problem as most of the staff spoke English. We found the ski boot selections much higher in quality than those available for rental in the U.S.

Our group rented skis from two different places: Julen Sport and Bayard Top Equipment.

Julen Sport had a broad range of equipment and offered us a 10% discount through our hotel. They were generally helpful and were willing and able to offer advice as to which skis were appropriate for different individuals, and when the skis did not match perfectly, they had no problem exchanging our skis almost every day in order for us to try a variety of different models.
Bayard Top Equipment was the other store we used to rent equipment. It was the only place in Zermatt which offered both telemark and alpine skis for rental. One member of our group is a telemarker, so this was an important point.

The staff were very friendly, helpful and knowledgeable. There was also a good range of stock from which to choose. My wife and I particularly wanted to try out the hand-made Swiss skis from Stockli. Which, by the way, are really nice and much more expensive in the USA. Bayard is the only store in the area which carries this brand.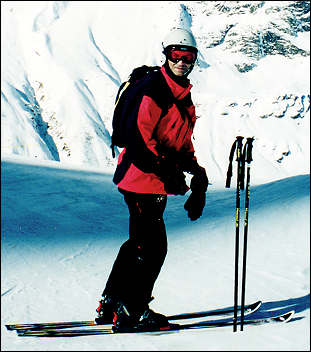 We had no problem going in almost every day to swap gear over in order to try out different models. Though once I found a pair of skis I liked (I am the telemarker and I loved the Stockli Stormrider Fry) I stuck with them for the rest of the week. Indeed, we were both so impressed with the ones we tried that we each purchased the pair we liked best. Kara liked the Stockli Spirit ED. V downhill model. Purchasing Stockli skis in Zermatt is definitely worth thinking about given the difference in cost of these skis in the USA and in the difficulty of finding them there.
Kara and I highly recommend if you come to Zermatt, that you pop by Bayard and try the hand-made Stockli skis too. Visit the Bayard website by taking this LINK.

Note: Anorak also offers telemark gear for rental, but had no alpine skis.

---
Nick was born in the UK and has spent several years living and skiing in Vermont, USA. He and his wife Kara were both children's ski instructors at Smuggs.