For more than 25 years, our family has skied all over North America - both U.S. and Canada, but we'd never "Skied Europe", a life-time dream of my husband. Our youngest daughter and her husband Nick were spending the year at Oxford in England, so we decided this was a opportune time to adventure forth to the Alps. Being the family travel planner, I set out on the internet to find "everything needed to know to plan a European Ski vacation". Alas, unlike the North American ski resorts which have blizzards of information throughout the internet, I found very little (in English) about European Ski Resorts other than "canned" and typical travel hype.

I highly value "eye witness reports", travelers reviews, feedback from people who have been there and what they really liked or disliked... but very little was to be found ... except for one very exceptional website - www.Ski-Europe.com which isn't based in Europe at all, but in Houston Texas, not far from where we live! Bookmark that website because you'll find yourself going there again and again no matter where you plan to ski. Its world-wide ski resort information is some of the best on the internet.

I was also lucky enough to exchange information with others, worldwide, who have been to Zermatt. Most found me by discovering my online reviews about other ski resorts (Aspen, Jackson, Whistler, and Banff). I will add a page of their suggestions and comments and want to thank them for generously sharing their experiences.

Once we decided on Europe, it was time to narrow the field down to "where?"

We always take our ski trip in January - not always a good month for "best snow"; February and March are better since slopes will have accumulated snowfalls and a good mountain base. So, my first priority was finding a European ski resort that usually had lots of snow in January. Cortina d'Ampezzo, Italy came off our list as being lower in altitude than some resorts and having best snow later in the ski season. For the same reason, most of the Austrian ski resorts came off our list too. I couldn't see flying 12 hours to Europe only to discover we'd arrived before the snow began to really pile up on the mountains!

So that narrowed the field down to Switzerland since it has some of the highest peaks in the Alps. I read through all the Ski-Europe.com information about Swiss resorts and hit the second paragraph for Zermatt, home of the famous Matterhorn: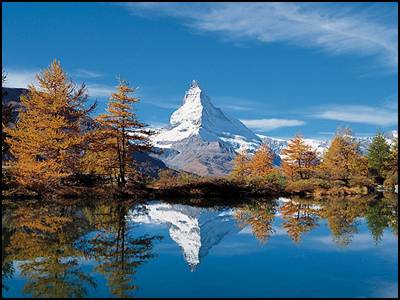 "You must try Zermatt before you die. Few places can match its combination of excellent advanced and intermediate slopes, reliable snow, magnificent scenery, Alpine charm and mountain restaurants with superb food and stunning views."
At my "golden" age of 57, the first sentence made sense, as did the rest of the quote. Plus it has three mountains to ski...and also the Matterhorn which we had always wanted to see! Our family skiers would be in slope heaven and the non-skiers would have plenty to do while being surrounded by "Old World" charm in a village setting - much like one of our favorite places to ski in Colorado - Aspen. We considered St. Moritz, but it was a larger town and sounded too "ritzy" for us, perhaps much like Vail which we aren't fond of. (Note: people either love Vail the best, or Aspen - you will NEVER meet anyone who loves them equally.)
So, we narrowed the decision down to Zermatt. Now, how do we get there? Where do we stay? Which are the best runs for our mostly high-intermediate family? What will Katherine and I do - the two non-skiers? I had a million questions and this is where I ran into trouble on the internet. The good news is that with the excellent help of our travel agent, Ulf Carlson of Olson Travel (born in Sweden, fluent in several languages including German, been all over the world, and an American for 30 years), we planned the perfect trip.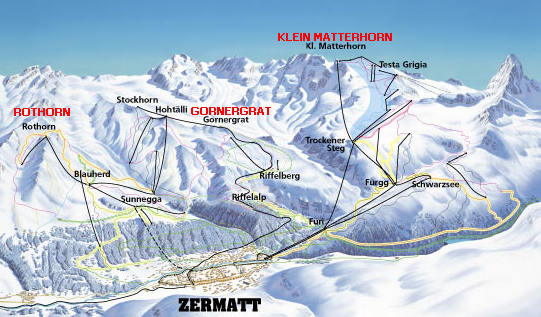 PLANNING THE TRIP
Which hotel - where to stay?
Everyone seems to have their favorite place to stay in Zermatt. With over 100 locally owned hotels in all price ranges, little wonder. Since we were going all the way to a destination with one of most famous mountains in the world, then we should all have a great view of it during our stay. So, number one hotel priority became "guaranteed room views of Matterhorn". I soon found that some hotels did have that, others had that but at highest rates, some couldn't promise a Matterhorn view at all.
Most all of the larger hotels offered "half-board" rates meaning the room, breakfast, and dinner would all be included in one daily rate. After pushing a pencil to what it might cost to feed 8 of us each day, this plan sounded like a good cost saving one, plus we'd know many of our expenses ahead of time.
Since Kenny and I would be there 14 days and our kids and spouses an average of 10 days, eating dinner at the same hotel might prove to be rather limited. One specialized in lamb, and Texans hardly know what one is since we are from the land of cows and beef eaters. I remember only one butcher shop in our city that periodically posted a sign "Yes ma'am, we have lamb"; I always wondered if he sold any. I soon discovered the "family" of Seiler Hotels - 5 of them - which all featured a "dine around plan". Guests staying at one could make reservations at any of the others which totaled to 11 restaurants of all kinds and flavors. A perfect solution for our group of mostly beef eaters and one vegetarian!

Mount Cervin

Seiler

Hotels

In

Zermatt

Monte Rosa

Schweizerhof

Hotel Nicoletta

Riffelalp

Which Seiler Hotel? Nicely, they have a wonderful range of accommodations from "Five Star best in Zermatt" to "Four Star" selections. The most famous are the Mont Rosa with Old World charm and the highly acclaimed Mount Cervin; others were the Hotel Schweizerhof, Riffelap located halfway up a mountain (sounded very romantic), and the Hotel Nicoletta popular with families needing a kindergarten for their youngsters.

We first contacted the Mount Cervin and found that it was the largest of all and we might be spread out over three buildings, some with a Matterhorn view, maybe some without. Its rates were some of the highest in Zermatt too. Had only Kenny and I been going on this trip, we would have booked one of its suites facing the Matterhorn or stayed at the Riffelap. However, the Nicoletta could guarantee that we all had rooms with balconies facing the famous mountain, so it became our final choice. Kenny and I booked a suite on the 5th floor and we put our 30-something aged kids in rooms with balconies on the 3rd floor. The restaurant & bar are on the 4th, the kindergarten is in the basement.

Overnighting in Zurich:
The train ride from Zermatt to Zurich is 5 hours. Four of us took mid-morning trains to Zurich and managed to fly home to Boston and the UK on the same day. The other four needed to overnight in Zurich to catch 10 am flights back to Florida and Texas. We choose the Hilton Airport Zurich - Hohenbuhlstr. 10 - 8058 Zurich Airport since they offered some good rates which included breakfast and have a free airport shuttle. It's about a 10 minute ride and the hotel was very modern and comfortable.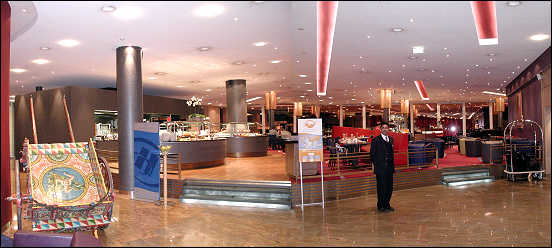 GETTING THERE:


In some ways, this proved to be the most difficult part of the planning. We all had to fly 7 to 12 hours to Zurich (or Geneva, but it had less flights from the U.S.) and then take a 5 hour train ride - a long "day" for those of us going from South Texas via American Airlines, Florida via Delta, and Boston via Swiss/American Air. Kara and Nick had it easy - a one hour flight from London! Lucky them.

Olson Travel contacted Rail Europe for our train tickets and we discovered an economical "Swiss Transfer Ticket" which offered easy transfer from any Swiss airport to any one destination and back. We could also purchase Swiss Fly-Rail Baggage Coupons which could be filled out, attached to our checked luggage at our various departing airports and the bags would be delivered directly to our hotel in Zermatt, thus saving us from lugging all that luggage on and off the trains.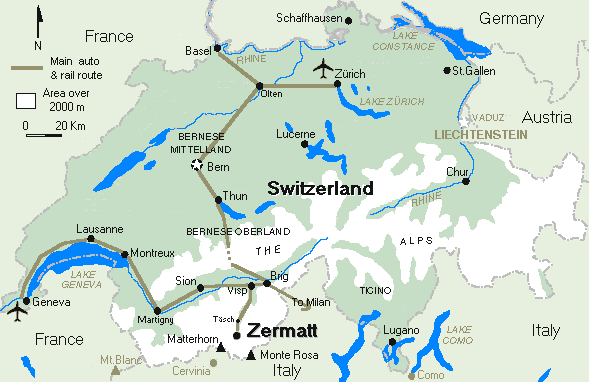 We accessed the train schedules from Zurich to Zermatt at SBB Travel Online and choose schedules with the fewest train changes - three going and two returning. They could not do seat reservations at the time of the booking, but perhaps we can do that when we check at the train station in Zurich.
Once our trip planning was completed, we all started watching the weather reports, hoping for great snow. Our favorite website was www.SnowForecast.com (the 3 day forecast is free; you must pay a small fee to access the 6 day forecasts which is well worth it). This website provides information about almost every ski resort in the world, so it's a great one to bookmark if you are planning a ski trip anywhere at all.
We also watched the weather at www.weather.com which gives 10 day forecasts. Click on the WORLD link at the top and type Switzerland in the search box.
You will find a list of Zermatt and travel links on our links page, including links to our hotel, restaurants, and ski reviews.

GENERAL INFORMATION

ABOUT SWITZERLAND & ZERMATT


Altitude:
Zurich is at 1300' above sea level and Zermatt is at 5,000' or about like Denver. The three ski mountains are at 7000', 9,000, and 11,000'. The Klein Matterhorn can be very windy with gusts up to 50 mph in fronts resulting in some days when several lifts may be closed, however the Rothorn and Gornergrat area have lower wind speeds and is a good choice on cloudy or windy days. The tree line is much lower than the Rockies and trees are only found on some of the lower runs.

January Temperature in Zermatt:
Generally highs in 20s, lows above zero to 15 degrees in town; mountains can be much colder. Warmer than Jackson, colder than Whistler, about like Aspen. Humidity is a little higher than the Rockies.

Tipping: A service charge is normally included in restaurant, hotel bills and taxi fares. An extra tip is not expected but is appreciated - we generally added 10%. For special services like luggage handling, it is customary to tip CHF 2 per bag.

Currency:
Switzerland's currency is the Swiss Francs (CHF). On January 1, 2002 twelve member states of the European Union started with a common currency, the Euro. Switzerland is not among the countries participating, but the Euro will be accepted in hotels, shops and other service industries. You will find price information listed in both Swiss Francs and in Euro.

The Swiss franc comes in the following denominations:
Coins: 5, 10, 20, 50 Cents and 1, 2, 5 Francs Bank notes: 10, 20, 50, 100, 200, 500, 1000 Francs

Time Zones: Switzerland is 6 hours ahead of Boston; 7 hours ahead of Texas; 1 hour ahead of UK.

Telephone Calls:
Telephone International calls may be made from any public phone by dialing "00" followed by the country code. Phone cards can be bought at hotel reception desks, post offices and kiosks for CHF 10.– or 20.–.

Computers:
Laptop users should travel with a RJ 45 phone jack adapter and a Swiss electrical power adapter. We found both at TeleAdaptUSA.

Taking a train verses driving to Zermatt:
Driving time from Geneva or Zurich is a little faster than the trains, but you'll probably miss seeing the best scenery. Plus, cars are not allowed in Zermatt - vehicles are left at a big parking lot several miles from Zermatt and either electric buses or a train hop will be needed for the transfer. Why pay parking fees when you can just ride the train!

Here's one of the four legged "taxis" at the Zermatt train station: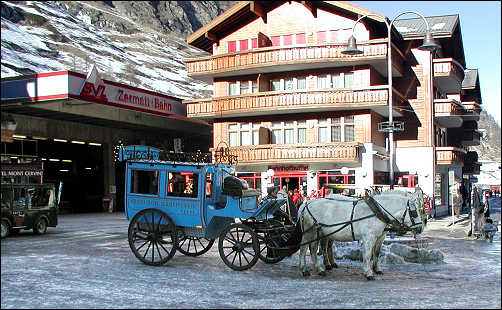 SWISS TRAINS


Swiss trains and travel are a marvel of engineering design and a pleasure to experience. They are spotless, some almost "space age" modern, and quiet. More than a few Americans have only been on a train once or twice, if at all, since USA transportation revolves around cars and airplanes because of the vast distances between our towns and cities. The only trains going past many of us are big, lumbering ugly freight trains with noisy diesel engines.

We also tend to equate train travel with airline travel and the thought of being 4 or 5 hours on a train after many hours on a plane to reach Switzerland may seem like pure torture to the body and soul. Not so at all. Unlike planes, where one has to strap into small uncomfortable seats with no view to endure jet noise and a bumpy flight, trains are smooth, and give you a chance to walk around, visit the dining car, and enjoy the views. They are also quietly electric powered. You'll be surprised how fast 4 or 5 hours will go by with the beautiful countryside and mountains of Switzerland to see.

Americans also tend to panic when we realize that only a few minutes are allowed to connect from one train to another since most of us are used to having 30 minutes to an hour to connect with airline flights in those huge major airport terminals. Leave your worries behind - even large train stations are very well organized and it is a matter of walking off one train, looking at a sign or your printed schedule, and moving over to another track. You'll make your connections just fine, so sit back, relax, and enjoy Swiss Train travel.

One word of caution: Do not leave your luggage unattended at any time. Racks are in the overhead bins, storage is between some seats, or in an area toward the ends of the car. Stash your luggage near your seat and keep an eye on it.

Also, be sure you not only board the right train, but the right car. Some cars in a long train may be dropped off at various towns and latched onto by a different engine. One of our friends who travels Europe quite often wrote: "Be sure you're not in the dining car during one of these switchovers. Yes, it happened to me. The dining car did not go to my destination. And neither did I."

I was amazed to see a big German Shepard dozing beneath his owners' seat, so you might see a few pets riding with you.

If you are traveling with lots of luggage, have your travel agent order Swiss Fly-Train luggage tags that are attached to your checked bags at your home airport and will allow them to travel all the way to your Swiss town or hotel. More information about this is in the next section.

Believe me, train travel is much easier and far more pleasant than plane travel!

ZURICH & THE TRAIN RIDE


We landed in Zurich, a huge airport, and easily made our way past immigration and to the luggage carousel to make sure our luggage had arrived. Since the bags had the Swiss Fly-Train tags attached, we were told to leave them on the belt to be collected by the train staff. New arrivals will also find huge luggage carts in this area if needed to transfer bags.

We followed the signs to an upper deck of the train station area which has escalators (these also take the big luggage carts - what an unnerving experience to ride straight up or down hanging on to a luggage cart!) Be aware that both times we rode these escalators, luggage came flying down and hit people. Here's Kenny riding up with our cart precariously locked onto the steel steps.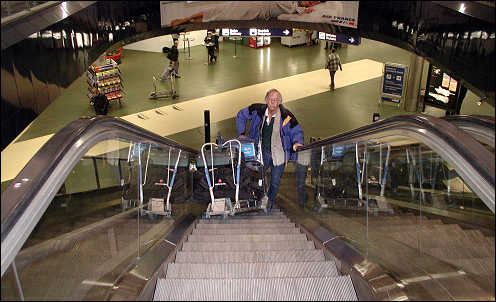 We found the ticket counter where we had our tickets validated, a schedule printed, and then went down to the tracks to the designated sign. We had 1st class tickets and an announcement (in German, French, and English) reconfirmed that we were standing on the right track.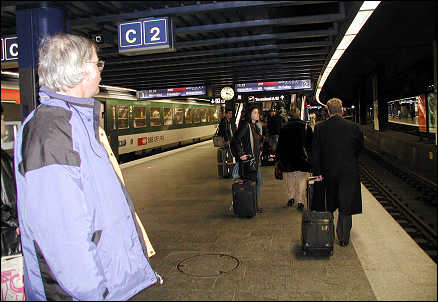 Our train came along momentarily and we boarded with our carry-on luggage. These were gorgeous train cars, very modern with a both a lower and upper level. It made a stop in downtown Zurich and we were off to Bern for an hour and half ride. I dozed off and on, trying to shake jet lag, before we changed trains at Bern for the next hop to Brig, another hour and half ride.

At Brig, we had to change to Brig FO/BVZ by walking down to a lower level and following the signs outdoors to track 14 - we went through the train station and over one block to the outdoor track. In the picture below, you can see people walking toward the Zermatt train on the left.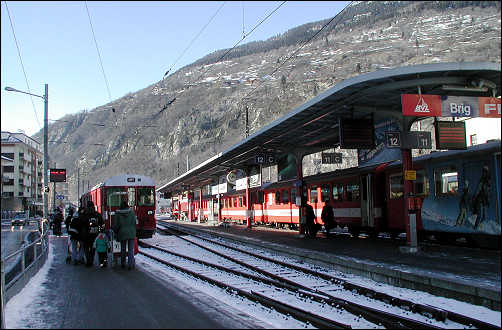 If you don't see a train sitting there and it is cold, then it might be best to wait inside the main station until one of the cute little red trains shows up. We entered the last car, a very basic one and soon discovered that the front car must have been one of their "panoramic" ones with windows on the sides and part of the curved roof. Settling in for the next hour and half ride, we were in for a real treat - the mountain scenery was fantastic!

Because the little train was ascending through the mountains as it traveled up to Zermatt, it rode on cog wheel tracks at times - the engine grabs the center rail and then pulls itself up the steep grade.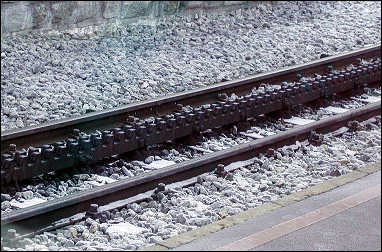 Each train (except for the last one) had snack carts full of drinks, candies, M&Ms and other items for hungry passengers.
Note: Our luggage with the Fly-Rail tags sent from our home town airports arrived in Zermatt about 2 to 4 hours after we did. Before departure, our hotel arranged for our bags to be shipped back to the Zurich airport where we retrieved them in time to check in with the airlines. Very handy way to travel with only carry-ons and no big luggage to drag on and off the trains. Another great example of that Swiss efficiency!