SEILER HOTEL RESTAURANTS
and the "Dine around" Plan
Guests staying at any of the five Seiler Hotels on the Half-Board plan (same as MAP or Modified American Plan, meaning breakfast and dinner are included in room rates), have the option to "Dine Around" at any of the eleven restaurants affiliated with the hotels. This is not available during the holiday season during which guests of each hotel will dine each night at their own hotel.

So how does the "dine around" plan work? A table is reserved at your hotel each night unless you decide to have dinner at one of the other restaurants and make the reservation by noon. The eleven restaurants each generate a "dine around" menu each morning (most change daily) which is available to any Seiler guests usually at no extra charge. However, IF you order from the a la cart menu at any of the main restaurants, then you will receive a 20 Francs credit per person toward the total bill. From the a la cart prices I saw, you'd best stay with the "dine around menus" unless you plan to spend quite a bit more. Also keep in mind that seating is limited at the "other" restaurants, so it is best to decide and make reservations by mid-morning to be best assured of having a table.
Two of the restaurants - the Japanese Myoko and Seilerhaus restaurants do not have a daily "dine around" menu and guests will be given 50 francs credit to use on the a la cart menus. (This amount may change depending on the season). The Prato Borni "Cheese Hut", the Da Mario Italian restaurant, and Schwyzer Stubli Swiss restaurant each have a dine around menu which stays the same. Since all three of those menus looked good, we made them our "default" restaurants for those nights when we didn't find anything on the "du jour dine around" menus that suited us for the evening.
If a guest decides not to dine at any of the Seiler restaurants, then s/he will receive a 20 franc credit to their room charge.
Clear as mud? Don't worry, it's easy to figure out once you get into the swing of things and will give you plenty of choices. We all looked forward to viewing the menus each morning to decide where we might dine that night.
All the hotel main dining rooms have a special or grand buffet at least once a week, usually on different nights. Since a huge buffet would give our family of carnivores and vegetarians the most selections, we signed up for several buffets during our stay. Nicoletta had an excellent buffet on Wednesday night, Mont Cervin had a Swiss buffet on Monday night and a Grand Buffet on Friday night. We didn't attend the one at the Schweizerhof or Monte Rosa, but another American family did and gave them excellent ratings. Be aware that gentlemen must wear a coat and tie to most of these buffets.
Guests will have an easy time finding a favorite menu among all these selections each day. Once a decision is made, simply tell your Hotel Concierge and he will make your diner reservations for the evening and give you a reservation form that is presented to the restaurant.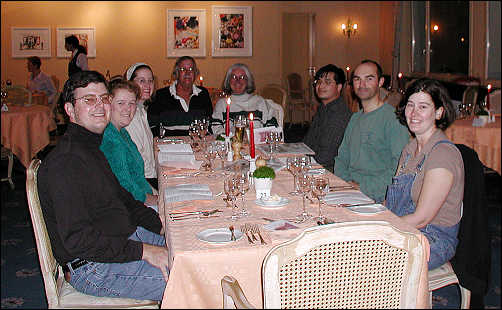 Left side: Our son Jeff and wife Katherine, our daughter Corinne.

Right side: Our daughter Kara and husband Nick, then Corinne's husband Max.


Our family of diners has very different tastes - Kara is our vegetarian, Corinne doesn't eat much red meat, Max will try anything, Nick - our Englishman - also has a wide range of preferences. Jeff, Katherine, Kenny, and I tend to stay with "meat and potatoes" unless fresh seafood is an option. Finding a restaurant which could satisfy all of us is often a great challenge, but we did find a few (and the other nights, we split up and dined at several different spots).

Note: in some cases, restaurants made a "no extra cost" exception for our vegetarian Kara if she could not find something suitable on the dine-around menu that night. Ask and they might make a recommended alternative selection.

Restaurant information and comments


Restaurant information provided by the hotels is in black below; our comments are in blue.


<><><> Seiler Hotel Nicoletta <><><>

Panorama-Restaurant
On the 4th floor, with breathtaking view of the Matterhorn. Seats up to 140. Light Gourmet Cuisine. Buffet on Wednesday. Smart casual dress code. Dinner @ 7:00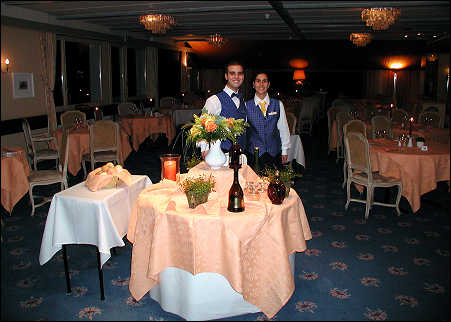 We loved the relaxed and friendly atmosphere and good food at the Nicoletta. The menu had selections of light Continental Cuisine and it was a difficult choice to dine out at another restaurant. The pianist in the nearby bar provided wonderful dinner music and we'd often move straight from dinner back to the bar for a night cap, game of billiards, or to continue our dinner conversations - see below:

Piano Bar with billiards corner
On the 4th floor overlooking the skating rink (tennis courts in summer). Piano player and bar man. Opens 5:00 pm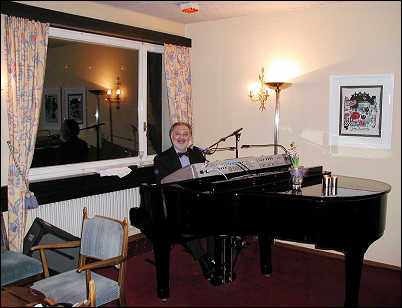 The bar also had a spacious reading room and lounge where we would all meet around 6 pm for a few drinks. Cocktail nuts and some of the best potato chips we've ever tasted were served (Frito Lay should try these some time!).

Carnotzet Party Cellar
Rustic party restaurant and bar for private functions. Seats up to 40.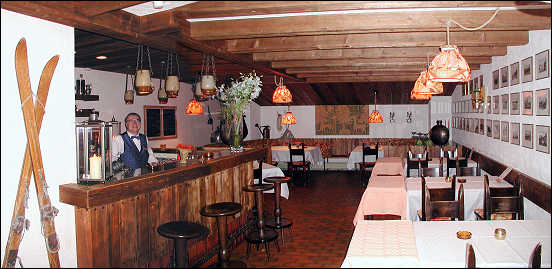 The Cellar had afternoon tea during our stay and also a special Fondue dinner one night.


<><><> Seiler Hotel Mont Cervin <><><>

Main Dining Room
Gourmet cuisine and à la carte dining, weekly buffets. 60-240 seats. Friday Buffet. Coat and tie required. Dinner @ 7:30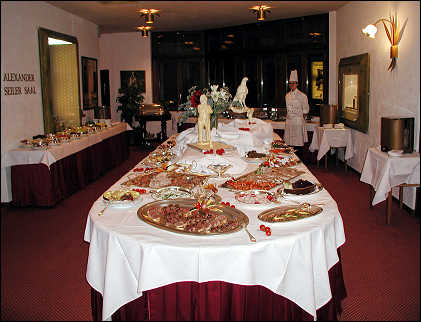 This elegant dining room served Continental gourmet cuisine five nights a week, a Swiss Specialties Buffet on Monday, and Grand Buffet on Friday. The two buffets were excellent and offered a fabulous array of selections for everyone in our family including Kara the vegetarian. Both rated 5 stars and the Swiss Buffet featured swiss hand bell music - a delightful addition. Coat and tie are expected at the Friday night dinner; smart casual for the other nights, although most men wore jackets each night.
Rendez-Vous Bar / Hall
The bar for aperitifs and cocktails. Piano player and barman. 65 seats Opens at 5:00 pm
We found this an elegant setting for a pre-dinner or after dinner cocktail.

"Le Cervin" Grill
Charcoal grilled meat and seafood. 95 seats. Rustic Style. Casual wear. Dinner @ 7:00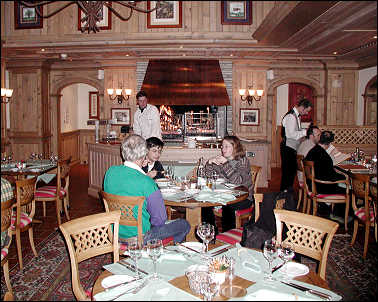 The full menu has steaks, lobster, seafood - all grilled to perfection over a romantic fireplace in the dining room. The dine around menu changed each night. Four of us - Corinne, Max, Kenny and I, opted to have dinner there on Tuesday night. Our selections included:

Small Cress soup with pine nuts

or Tomato risotto with crispy sea bass and artichoke

or the salad buffet

~ followed by ~

Veal crown from the charcoal grill with potato gratin

and selection of vegetables

or

Grilled giant prawns mediterranean style and

roasted potatoes with rosemary,

~ and finished with ~

with Crepe suzette for dessert

All were excellent and rated 4.5 stars out of 5. This was one of my favorite restaurants because of the relaxed, cozy atmosphere and grilled selections.


<><><> Seiler Hotel Monte Rosa <><><>


Main Dining Room
Gourmet cuisine, à la carte dining. Various theme buffets weekly. 100 seats. Coat and tie required. Dinner @ 7:30

The menus were always in French and haute cuisine. We didn't dine at the Monte Rosa but a family from Salt Lake City who return to Zermatt each year gave it high ratings.

Montrose Bar
cozy hotel bar, specialty cocktails (with and without alcohol) and Irish Coffee.

We enjoyed a drink at this very historic "Old World" bar.


<><><> Seiler Hotel Schweizerhof <><><>


Main Dining Room
Gourmet cuisine and theme buffets, once a week gala dinner with live musical entertainment. Swiss and Italian buffets Seating: 160 Smart casual. Dinner @ 7:00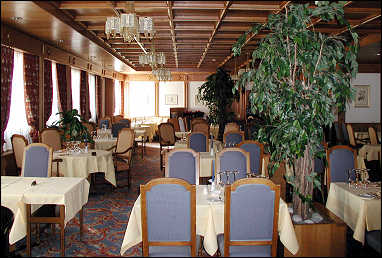 We did not have dinner here, but the menus looked good. Had we stayed at this hotel, I have no doubt we would have been quite happy in this restaurant.

The Lobby and Cocktail Bar
This elegant lounge with open fire-place is the ideal spot for a late afternoon or evening get together. Complimentary afternoon tea and cakes are offered to hotel guests daily throughout the winter, and there is also a weekly aperitif. Our barman will mix you a fancy cocktail, and every evening between four o'clock and midnight you can dance - or just relax - to music played by international pianists. Seating: 120

This was a very cozy bar and lounge - recommended for a pre or after dinner drink after dining at one of the four Schweizerhof restaurants.

Da Mario
An intimate and charming restaurant serving the finest authentic Italian specialties such as home-made pastas. This restaurant also has a separate entrance on Bahnhofstrasse (main street). Seating: 60 Smart casual wear. Open all day.



All eight of us dined here one night and the overall rating was 4.5 for cuisine and ambiance. Kara, the vegetarian, and Corinne gave it a 5.

Some of us started with the Cold Buffet of Italian appetizers and salads - enough to make a meal in itself! Others started on Penne with spicy tomato sauce.

The two soups were Tortellini and Vegetable soup Italian style, both excellent.

Max had the Risotto "Acquarello with asparagus and black truffles - excellent.
Some had the Fillet of bass with tomato cubes, pilaf rice, and vegetables in season - very good.
The rest had Veal escalope with lemon sauce, also very good.

We ended with delicious Tiramisu, Ice-Parfait with Amaretto, and Orange salad flavored with mandarin liqueur.

Overall, a great evening of Italian cuisine - we highly recommend Da Mario!

Corinne's comments:
Ambiance: 5 cozy, mod italian
Food: 5 Excellent dishes -- yummy spicy pasta with marinara sauce. Super
"tapas" like antipasta bar. Ya gotta try the Tiramisu. Wow.

Schwyzer Stübli
Deliciously prepared authentic Swiss specialties and snacks are served in this intimate restaurant in the style of a Swiss village inn. Live music is provided every evening by Swiss folk groups. This restaurant also has a separate entrance on Bahnhofstrasse. Seating: 60 Casual wear. 10:00 am to midnight.



We all enjoyed this delightful Swiss restaurant. The food was good, atmosphere fun, and the peppy Swiss band music was provided by a foursome - three ladies with accordions and a man on a base fiddle - a variation on what we would call German beer drinking music. We rated this restaurant the best in entertainment and good times.

Our dine around menu offered:


Colb Salad or Walliserteller (thin slices of meat and cheese)

or

Salad with mushrooms and warm medallions of lamb

Wine Soup Valais style (like drinking rich, creamy fondue)

or

Barley Soup (very hardy)

~ followed by ~

Sliced veal Zurich with mushroom gravy and Rosti (delicious hash browns)

or

Sliced veal liver with port wine sauce and Rosti (no one ordered this)

or

Sirloin Steak of deer and cream sauce with pepper, spatzli, and vegetable

~ and finished with ~

Warm Apple Fritters with vanilla sauce (excellent!)

or

Cinnamon and nut ice cream, meringue, liqueur, and whipped creme.

(Max rated this a 5 and it had enough booze in it that we thought we might have to carry him back to the hotel.)

Fresh fruit salad (no one ordered this but it looked very good)

Corinne and Max were allowed to substitute the evening special Osso Bucco, and Kara the vegetarian was allowed to order Risotto at no extra charge.

Prato Borni "Cheese Hut"
Cozy "cheese hut" in the style of an old Valais chalet serves all Swiss cheese specialties, raclette, fondue, charcoal grill specialties, chinoise/bourguignonne, pizzas and succulent steaks from the charcoal grill. This restaurant also has a separate entrance on Bahnhofstrasse. Casual wear. Open 6:00 pm



If you've never heard of "Raclette", it's the Swiss national dish as well as the name of special cheeses. The photo on the right above shows our waitress heating a half wheel of cheese before scraping the bubbly stuff onto a plate to be eaten with pickles and vegetables. For everything you ever wanted to know about it, take this LINK.

All eight of us dined at Prato Borni and loved it. The dine around menu had two extensive selections:

Menu 1: White wine soup Valais style, Fondue Bourguignonne or Fondue Chinoise, ending with Sorbet with abricotine liqueur. (for two persons).

Menu 2: Green salad, air-dried meat, followed by Raclette with four different cheeses or Cheese Fondue, finished with Fresh fruit salad with kirsch. (for one person).

Katherine ordered the cheese fondue; Corinne, Kara, and Kenny ordered the Raclette, while Nick, Jeff, Max and I had the Fondue Bourguignonne. You can see what a good time everyone was having: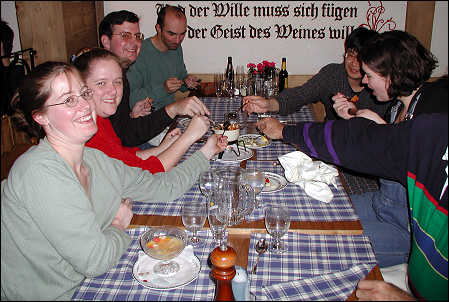 We also ordered a LOT of beer, as in more than enough. Plus two of us ordered the Fresh fruit salad with kirsch - and more than a few drank the dessert rather than ate it! By the time the chocolate fondue hit the table, everyone was pretty well "gone" and completely goofy. Jeff insisted on eating it from a spoon - JUST the chocolate; Katherine was enthusiastically yelling "chocolate", and Corinne was busy licking all the chocolate off her face.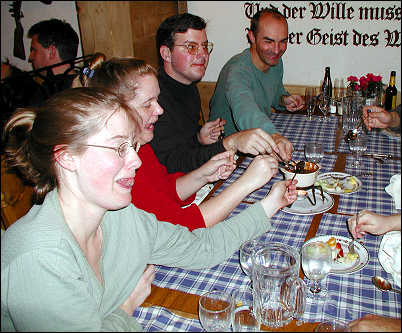 Corinne's Comments:
Ambiance: 5 What fun! Communal eating
Food: 5 Ya gotta love cheese or meat to appreciate the food. Don't eat
lunch, save room for the big portions at this restaurant.

EGG PIZZA?

A long table full of Germans behind us ordered Pizzas. When the food was delivered, we were amazed to see a big hard boiled egg sitting in the middle of all the pizzas! This must be a "Swiss thing". Notice the knife and fork... Germans would NEVER pick up a slice of pizza and eat it as an American does. We, on the other hand, would no doubt call it "finger licking good"!
<><><> Other Seiler Restaurants <><><>


Seilerhaus Restaurant - Café, Bar, Bistro
Modern restaurant, casual atmosphere, dishes from Italy, America, and Asia are served. Music is selection of jazz, junk, blues, soul, and pop. During the winter months the terrace is heated, giving our guests the opportunity to enjoy a few pleasant hours outside when the weather is good. Casual wear.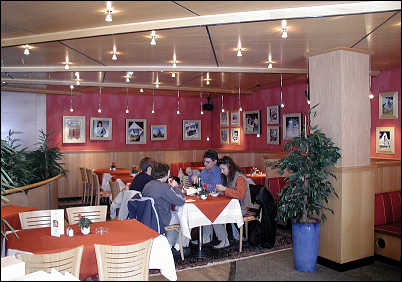 The menu was extensive and looked quite good, however, it was a little too close to American fare for us to try it.

The Myoko Restaurant
Every detail was taken into consideration when this restaurant was designed in order to faithfully reproduce authentic Japanese cuisine. Our Japanese specialty chefs learned their trade in Japan and since their arrival in Zermatt they have been making exquisite à-la-minute sushi and delicious specialties of the land of the rising sun such as tempura, shabu-shabu and yakitori. Only the best, freshest fish, the very best quality meat and the freshest and crispest vegetables are good enough for preparing these dishes.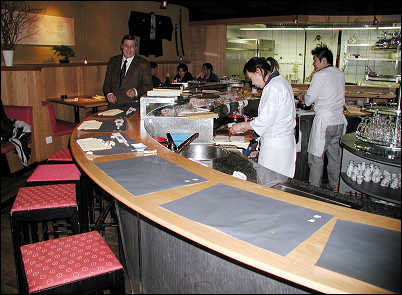 Jeff and Katherine dined at the Myoko one night and gave it 5 stars. The dine-around plan gave them each 50 francs to spend on selections from the three page menu of sushi (which does not change each night). They spent 98 of the 100 and loved everything they ordered.


<><><> Riffelalp Resort 6666' <><><>


"Alexandre" restaurant
delicious set menus, à la carte dishes, weekly buffets and soirees set against a spectacular view. Smart Casual.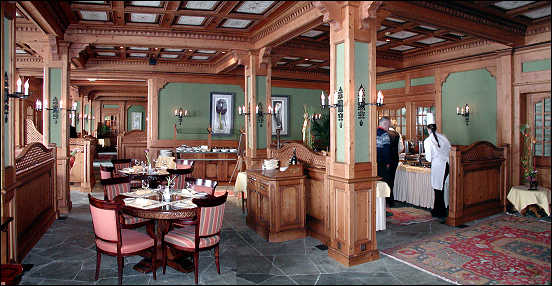 Kenny and I took the cog-wheel train up one day and had lunch in this restaurant. It has a gorgeous setting, views, and a beautiful lunch buffet with extensive dessert table. Highly recommended for a day when one doesn't ski, or for those who do ski and want an elegant noon meal.

The Salt Lake City family dined here one night and gave it excellent ratings.

"Walliser Keller" restaurant
for those seeking a homey atmosphere in which to sample the local specialties. Casual wear.

I've read good reviews from others. It's small so make reservations far in advance. The Riffelalp Resort provides guests with a free roundtrip to Zermatt on the Gornergrat cogwheel railway each evening, so take advantage of the Seiler Hotels' "Dine-Around" option if you're staying more than a few days.