If you have ever dreamed of "Skiing Europe" and want the best in Alpine village atmosphere, gorgeous mountain views, excellent cuisine and perfect service, then go to Zermatt, Switzerland at the base of the famous Matterhorn.

Nothing in America, and probably the world, is quite like Zermatt. Nestled deep in the center of a tiny valley in one of the highest Alps mountain ranges, Zermatt has retained its small village atmosphere while becoming one of the most well known European winter destinations. Alpine charm is everywhere while chalet style homes, inns, and hotels abound.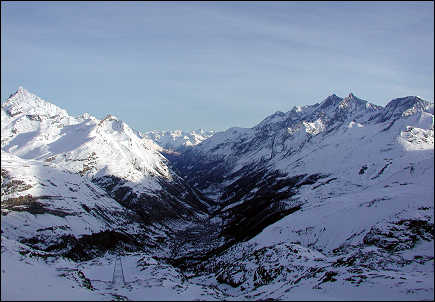 I found our two week vacation in Zermatt one of the most memorable we've ever taken. The enchanting feeling started as soon as our train entered the spectacular Alps mountain range and continued until we headed back to Zurich to fly home. If you've ever thought about going to Europe for a winter vacation, put Zermatt at the top of your list.


ZURICH & THE TRAIN RIDE


We landed in Zurich, a huge airport, and easily made our way past immigration and followed the signs across an enclosed elevated walkway to the train station.

At the station counter, we had our tickets validated and a schedule printed, and then went down to the tracks. We had 1st class tickets and an announcement (in German, French, and English) said which track to stand by for our train.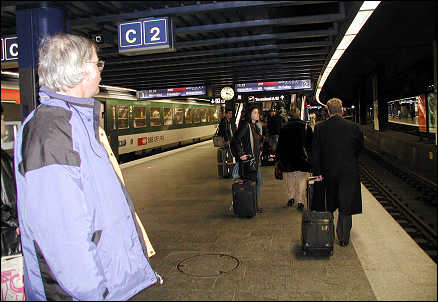 Our train came along momentarily and we boarded with our carry-on luggage. These were gorgeous train cars, very modern with a both a lower and upper level. It made a stop in downtown Zurich and we were off to Bern for an hour and half ride. I dozed off and on, trying to shake jet lag, before we changed trains at Bern for the next hop to Brig, another hour and half ride.

At Brig, we had to change to Brig FO/BVZ by walking down to a lower level and following the signs outside to track 14 - we went through the train station and over one block to the outdoor track. In the picture below, you can see people walking toward the Zermatt train on the left.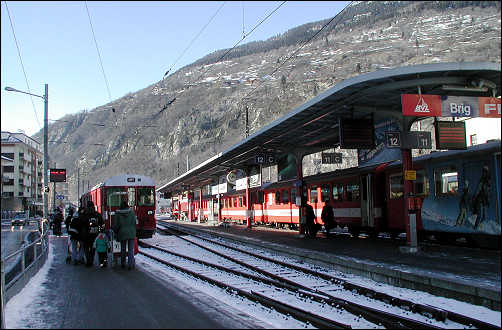 If you don't see a train sitting there and it is cold, then it might be best to wait inside the main station until one of the cute little red trains shows up. We entered the last car, a very basic one and soon discovered that the front car must have been one of their "panoramic" ones with windows on the sides and part of the curved roof. Settling in for the next hour and half ride, we were in for a real treat.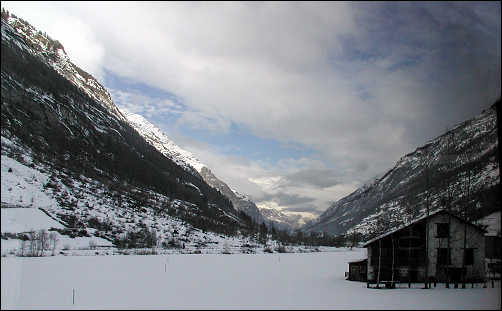 This part of the train ride is absolutely spectacular! We slowly entered the Alps which has mountain peaks straight up with sheer sides plunging down into gorges or small meadows with charming little Swiss villages nested within and along the way. It is as though the Rocky Mountains of Colorado were taken and compressed into a tight area, shoving mountain tops closer together and narrowing the valleys. We passed quite a few water flows frozen in place as they poured down the mountainside - perhaps called "icefalls" rather than "waterfalls".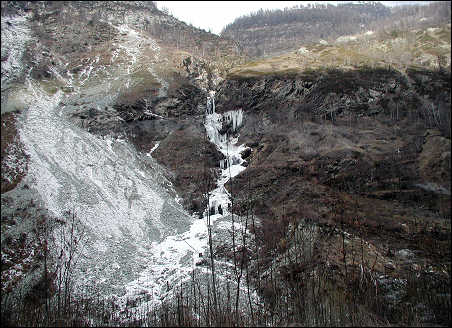 ARRIVAL in ZERMATT
We soon arrived in Zermatt nestled in a high valley topped with the Matterhorn! Yes, it is in full view of the village area and majestically towers over everything. No gas powered vehicles are allowed in town, so transportation is by small electric cars, buses, and horse drawn carriages! Here is the "taxi stand" at the railroad station in Zermatt: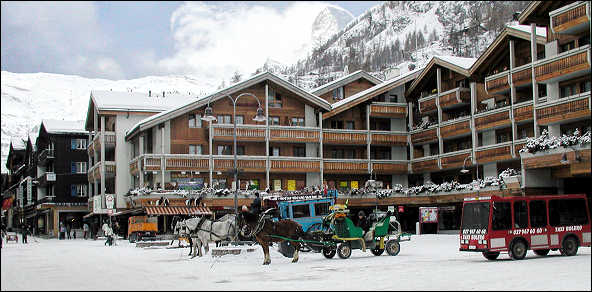 Zermatt is a small village - about a 15 to 20 minute walk from one end to the other - and mostly flat. Picture a high oval mountain range with almost sheer sides and deep in the center is Zermatt. The size could be compared to downtown Aspen. A few low hills are on the south side and have Alpine homes and small farms here and there at the end of the valley.
Streets are narrow and lined with shops, restaurants, hotels and inns near the rail station. Homes and houses are throughout, some perched on the lower edge of the mountains, and a mixture of very old wood-hewn beamed walls 100s of years old with newer buildings and homes (probably only a century old!) Most buildings and homes are chalet style, some very historic, others more modern, but all blended in with the "Old World" charm and Alpine architecture.

We loved the ancient little "barn-houses" scattered here and there among the newer buildings. Livestock is kept in the barn below and living quarters are above; supposedly the animals "heat" the house. That's one way to save on the power bills!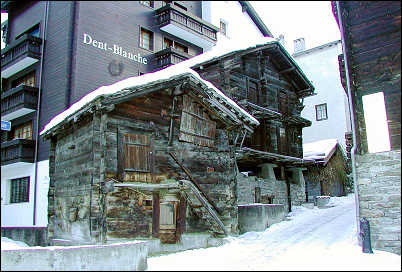 We found lots of Swiss watch shops, ski equipment stores and rental places, clothing boutiques, and souvenir shops with everything from Swiss brass bell key chains to lacy handkerchiefs for sale. Bakeries abound as do gourmet food stores. We discovered that the best buy on chocolate bars were in the grocery stores - one was by the Nicoletta Hotel and another was on main street, called the Bahnhofstresse, near the Monte Rosa Hotel.
Stores open from 9 am to noon, close for lunch, and reopen at 2 pm. Most were closed again around 6 pm. Sunday shopping is best done in the morning since everything seems to close that afternoon, other than the ski shops that open again around 4 pm.

The Souvenir Shop near the Schweizerhof Hotel mall had every type of "collectable" anyone might want. Porcelain Gilde Clowns which I'd never seen before, Swarovski Crystal figurines and jewelry, cuckoo clocks, Goebel Hummels, Reuge Music boxes, fine porcelain dolls to name a few things. Their Hummel display was ingenious - a snow village decorated with all the figurines. How about a 38,250 dollar music box?

Click on the Hummel Display above for larger, detailed image.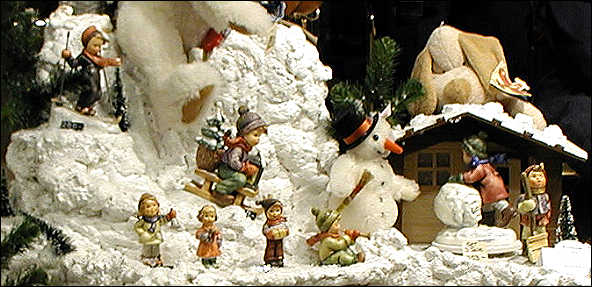 Several banks provide easy currency exchange and ATMs were abundant (a good thing if you planned to buy that expensive music box!).

Just past the church is a section of shops and I spied a really unique men's gift in one of the windows. The Tie-Break store had a gorgeous blue silk tie with a hand-painted Matterhorn on it, complete with three tiny climbers! It also had a "skiers" tie with tiny skiers on a slope. These are created by Markus Karl Losse and you can view his website by taking this LINK. Click on the Galerie Button to see all the ties which include golfing, sailing, music, and many other designs.

You can click on my tie pictures for larger, detailed images.

Most every shop had someone who spoke English and about half took credit cards. Large restaurants also took credit cards while small cafes usually did not.

The mid-January temperature stayed about the same during our 12 day stay: 17 degrees F at night and 27 F during the day, although on sunny days it seemed much warmer and I was perfectly comfortable in a turtleneck cotton shirt with a fleece jacket. The humidity is not as low as the Rockies, yet not high - just perfect, really!

Zermatt is known to have some high winds on the mountains, but we seldom had anything more than a breeze in the village.

Skiing is in three areas - the Klein Matterhorn that connects to Italy's Cervina, the Riffelap-Gornergrat and Sunnegga-Rothorn area. You can read more about the skiing by taking the links at the bottom of this page.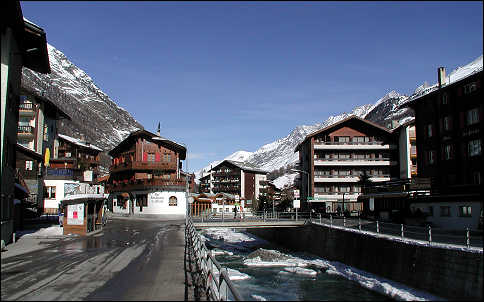 We usually had two or three of the group who took a "day off" from skiing and spent time doing a "walk about" in Zermatt, shopping in the stores, or swimming in the hotel indoor pool. Unlike many ski destinations which have little else to do, Zermatt offered plenty of off-slope activities while being surrounded in total mountain beauty. It seemed that no matter where you were in Zermatt, you had a view of the Matterhorn towering above all.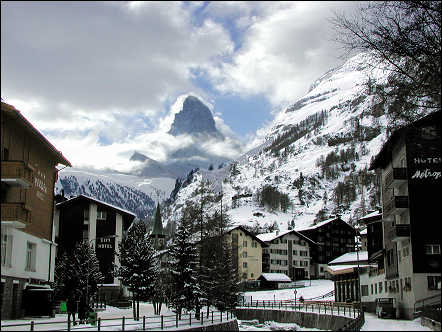 A "must" whether you ski or not is going to the top of the Klein Matterhorn and viewing the ice caves. Another one is taking the scenic train ride to Riffelalp and having lunch at the resort located there.


A Ride to Riffelalp for Lunch at the Resort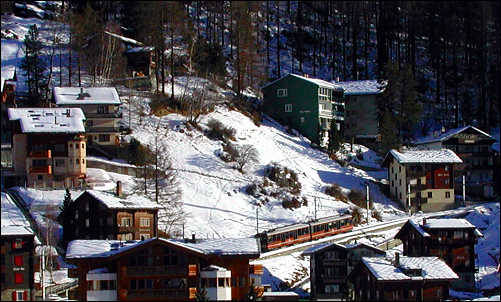 Train heading up to the mountain along the side of Zermatt


Kenny and I boarded the Gornergrat Railway car in Zermatt at 11:30; this is the same one that skiers take to reach the top of Gornergrat ski area. The cogwheel train left Zermatt and traveled slowly up, around, and through the mountains giving us spectacular views of the village, forests, and Matterhorn area.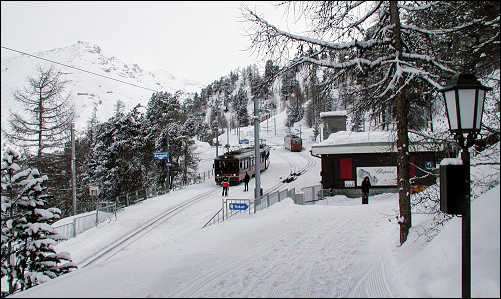 After a 20 minute ride, at the third stop, we trundled off the train at the cute little Riffelalp station and walked along a snowy road for 8 minutes to reach the Lodge (we are slow meandering walkers who tend to stop along the way to enjoy the views). A small restaurant and outside eating area (full of skiers enjoying lunch and views) was to our right with the lodge to our left. We entered a lovely reception area and walked down a long hall that connected to a large sitting area, the restaurant, and conference room. The interiors are richly furnished with lots of gorgeous woods and warm colors.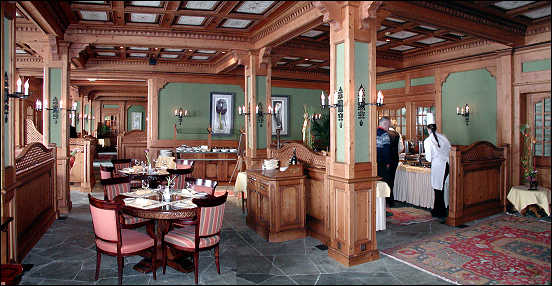 Lunch in the main dining room, called Alexandre, was a bountiful buffet, far too much for the light lunches we were taking during our vacation, but we spied a dessert table with 8 selections of deserts - chocolate mousses, apple strudels, fruits, and other delights.

The train ride back to Zermatt was as scenic as the one up. Unfortunately, the day became cloudy, so my photos are mostly gray.



We were all amazed how fast our trip drew to a close in Zermatt. It truly was one of the best winter vacations we have ever taken, and all highly recommend that you too go to Zermatt and discover the magic of the Matterhorn.